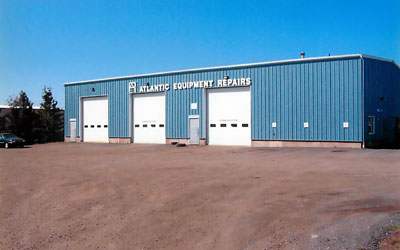 With over forty years experience in heavy truck repair and related services, we have been able to build and maintain a highly reputable business in and around Charlottetown. Atlantic Equipment Repairs '97 Ltd. has a broad client base and excellent working relationships with the trucking companies in the area.

We would like to take this opportunity to introduce our company and inform you of some of the services that we provide.

We have a full-service heavy truck repair facility in Charlottetown, PEI. We do all forms of truck repair, brakes, suspension, drive line, engine etc. We do preventative maintenance for numerous fleets not only on PEI but for fleets based in other maritime provinces as well. We provide motor vehicle inspections and we stock an assortment of truck parts. We have the current diagnostic tools for all makes of engines, Detroit, Cummins, Cat, Mercedes, Volvo, Mack, Paccar, Hino, and Navistar. We are an associate dealer for Mackay's Volvo in Truro, NS and Wajax Power Systems out of Dartmouth, NS.

We have a fully stocked mobile unit which allows us to provide extensive roadside assistance 24 hours a day 7 days a week. Shop hours of operation are Monday to Friday 7:00 AM - 4:00 PM November 1 - April 30 (Summer Hours - 6:00 AM - 3:00 PM May 1 - October 31); however, we are available on call 24 hours a day 7 days per week.

Our shop employs 5 licensed mechanics and has an excellent support staff.